DELI | PIZZA | PRODUCTS | MENU | FUELS | AMENITIES | PARTNERS
In addition to our delicious take out items, we offer a wide variety of products inside the store for your convenience. From grocery items, including milk and eggs, to beer and wine, lottery and even an automotive section...we've got everything you need.
Whatever snack you might be craving, chances are Lakeside Market has it. We've got a huge selection of candy and novelty items as well as Slush Puppies and Shain's of Maine Ice Cream. You'll also find a great selection of chips, cookies, frozen treats and other snack items as well as homemade goodies, donuts and muffins on our front counter. There are even homemade biscuits for your canine friends!
We carry New England Coffee in a variety of flavors, all brewed fresh every day. Join our coffee club and when you buy 10 coffees (any size) you receive a free coffee (any size). Just ask one of our cashiers for a punch card. (You can join our pizza club too!)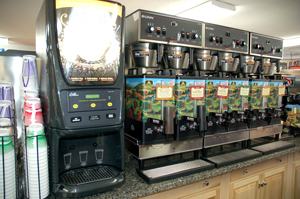 We offer a full selection of tobacco products as well as Powerball, Maine State Lottery and scratch tickets. (Visit the Maine State Lottery website for the latest lottery numbers and upcoming jackpots.) You'll also find essential items like sunblock, insect repellent, lip balm, batteries, medicines and toiletries. And for those backyard barbeques, you can pick up some ice and exchange your propane tank.
Also at our front counter you can purchase Gulf pre-paid gift cards which can be used at our pumps 24-hours a day, 7 days a week. Perfect for a last minute gift, these cards are available in any denomination from $1 to $250 and can be used for just about anything inside the store as well as at any Gulf location.
We carry local newspapers and magazines including Uncle Henry's and stock many household items including cleaning supplies and paper goods. And for summertime fun, you'll find swimming goggles, beach toys, hats and an assortment of sparklers and morning glories for hanging out by the campfire.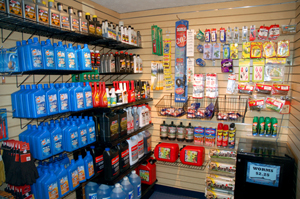 In our automotive section we feature Gulf Motor Oils for your vehicles as well as a variety of oils and lubricants including Amsoil. We carry an assortment of items for all types of vehicles including automobiles, snowmobiles, ATVs and boats. We also sell small gas containers.
Our refrigerators are stocked with beverages galore including sodas, juices, and waters and featuring Coke and Pepsi products, Monster energy drinks and Arizona Tea. Our large selection of beer and wine is also sure to please and available at competitive prices.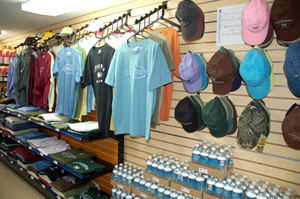 Now is a great time to stock up on our selection of Community Pride Clothing! We've got sweatshirts and t-shirts featuring "Waterboro," "Little Ossipee Lake," and Lake Arrowhead."
For you fishing enthusiasts we carry supplies and bait (worms, crawlers & dillies). Visit our LOCAL LINKS page for fishing and hunting information.