DELI | PIZZA | PRODUCTS | MENU | FUELS | AMENITIES | PARTNERS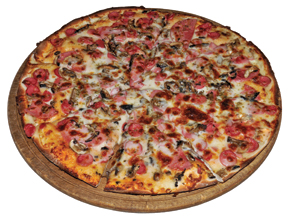 Our pan pizzas are known for their fresh dough and secret sauce that makes your pizza special. Pizzas come 10" or 16" and are cooked with special seasoned pans in our double-deck pizza ovens which can cook 16 large pizzas in 12 minutes. Each pizza is personally cooked at a cheese-melting 550 degrees to give you the most flavorful pizza...your taste buds won't be able to resist!
Customize your own pizza with the following available toppings: Pepperoni, Sausage, Ham, Salami, Bacon, Meatball, Hamburger, Green Pepper, Onion, Fresh Mushroom, Broccoli, Black Olive, Greek Olive, Tomato, Jalapeno Pepper and Pineapple
Some of our Specialty Pizzas include: Steak or Chicken, BBQ Chicken or Steak, Hawaiian, All Veggie, All Meat or a Breakfast Pizza. They also feature a BBQ Hawaiian Chicken pizza with Grilled Chicken, Bacon, Pineapple and BBQ Sauce; The Pizza Bomb with your Choice of Shaved Steak or Chicken, Green Peppers, Onions, Mushrooms and Pepperoni; or a Loaded Pizza with Pepperoni, Ham, Salami, Hamburger, Sausage, Onions, Green Peppers, Fresh Mushrooms and Black Olives.
JOIN OUR PIZZA CLUB...buy 10 large pizzas and receive
a large cheese pizza FREE!
Just ask the cashier for a punch card!

Click HERE to download our complete takeout menu.

Call 247-8440 to place your order!