DELI | PIZZA | PRODUCTS | MENU | FUELS | AMENITIES | PARTNERS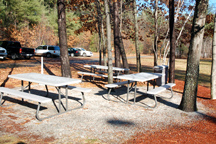 We offer our customers amenities like a shaded picnic area. Enjoy your takeout lunch or coffee at one of our picnic tables located along the back edge of our parking lot. There's also ample parking and a portable toilet behind the store.
Lakeside Market is an official AmeriGas propane cylinder exchange location. Just leave your empty propane cylinder outside and advise the cashier that you'd like to make an exchange or purchase. This exchange is a great way to recycle and keep old propane tanks out of landfills.
There is a coin-operated 24-hour air pumping station to fill the tires on just about any vehicle including a tire pressure guage. The air pump is located against the side of the building next to the diesel fuel pump.
Our 24-hour gas pumping station is monitored by high-tech surveillance cameras and a sprinkler system for our customer's safety. We offer pay at the pump 24-hours a day, 7 days a week.